Cut To Size / Planed Timber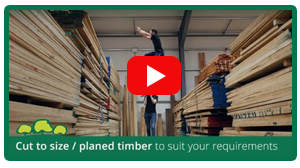 To get the most out of your order, Timbersource can do the jobs that can cost you valuable time, effort and resources. We cut to size accurately, to a specified size, for you and professionally plane timber for a smoother finish. Timbersource has industry standard machines including a Wadkin straight line edger, a Robinson's Re Saw and a Surface Planer which are reliable and deliver excellent results every time, when operated by our professional staff.
We have in-stock a very wide variety of hardwood and softwood timber to choose from, that we can offer these additional finishing services for.
Refer to the list here and click on the type of timber you require cut to size or planed. As well as finding out about the timber, you can use the cost-calculator to generate a quote for the services.
With over 160 years of experience in the industry you can rely on us to deliver the results on time, to brief. As we own our own mill and machine shop we have the ability to carry out any re-sawing, cross-cutting, planing, profiling and sanding you might need as preparation for your timber. If you have any specific questions about our cut to size and planed timber services or if you would like to talk direct to an expert at Timbersource for some sound advice on the best course of action for additional preparation of the wood you wish to order, please contact us.