Home > Softwood > European Douglas Fir Timber

European Douglas Fir Timber
From £9.52 + VAT
Part of our European Softwoods range, European Douglas Fir is imported as a fresh sawn, merchant grade of timber, and is often used by the construction industry.
When you order European Douglas Fir planed timber cut-to-size using our simple cutting calculator tool to the right, you'll receive a product which has been tailor-made to your exact specifications. Simply select how you'd like your European Douglas Fir Timber to be machined as well as the desired thickness, width and length, and we'll use the state of the art machinery found in our mill and machine shop to cut it to suit your specifications.
Call us on 01373 469905 or email us for more information: [email protected]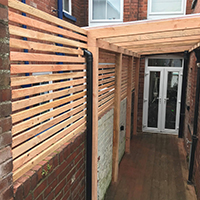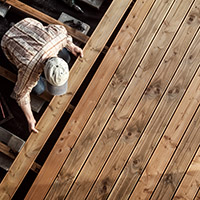 What homegrown timber works well outdoors?
British douglas fir is often fresh sawn and will likely have a high moisture content but it
makes for a great affordable outdoor timber for fencing, decking, fascia boards and garden walling.
Its higher knot content and character makes it a cheaper alternative to the North American version
but it is still a very strong and durable option and can be easy to work with using basic tools.

Cut to Size / Planed European Douglas Fir Timber
The heartwood is light reddish-brown in colour, usually quite distinct from the lighter-coloured sapwood. The abrupt change and contrast in colour between early-wood and late-wood bands, produce a prominent growth ring figure which is a feature of plain-sawn surfaces and of rotary-cut veneer. The wood from trees grown in the UK appears to have rather less resin then the North American wood, and to some extent is of more rapid growth. The average weight of dried timber from either source is about 530 kg/m3.
Ordering European Douglas Fir Timber
Ordering European Douglas Fir timber from Timbersource is a perfect choice for anybody requiring a wood with notable sound, heat, and electrical insulation qualities, in addition to natural fire retardancy. It also machines well, takes glue, nails and screws satisfactorily, and dries easily with minimal shrinkage. The heartwood and sapwood are both permeable. Overall, this is a strong, stiff timber which possesses low shock resistance properties.
Frequently Asked Questions about European Douglas Fir Timber
What can this timber be used for?
European Douglas Fir is used for: Heavy Construction, Piling, House Building, Roof Trusses, Interior and Exterior Joinery, Edge-grain Flooring and many more.
How strong and durable is this timber?
European Douglas Fir is a strong and moderately durable timber. Green oak timber is stronger than European Douglas Fir.
What are its physical properties?
European Douglas Fir is difficult to work and machine than imported material due to the greater incidence of hard knots which can be troublesome especially when loosened, while fast grown stock can cause problems in sawing, drilling, mortising, and planning, due to tearing and splintering of the relatively soft early-wood.
Care must be therefore be taken in finishing, but good results can be obtained. It can be glued satisfactorily, and although tending to split, can be nailed and screwed.
Standard Delivery
Click & Collect and Delivery - Timbersource usually aims to dispatch orders within 10 working days for most requirements. We will endeavour to complete your order ahead of schedule.
Next Day / Same Working Day
Click and Collect - Same working day collection when you order by 12:00pm**
Delivery - Next working day delivery when you order by 12:00pm (please call +44 (0) 1373 469905 to ask if we can offer Same Working Day Delivery)

**Subject to Stock availability and excludes Saturdays, Sundays, Bank Holidays and Christmas Periods.
Timbersource deliver Nationwide, for more information please CLICK HERE.