Home > Hardwood > American Cherry Timber

From £11 inc VAT
Our American Cherry Timber is stocked kiln dried, and is usually imported with a square edge.
Available thicknesses include 26mm, 32mm, 38mm, 52mm, 63mm, and 76mm, while widths are usually randomly from 90mm to 200mm. Lengths are variable above 2.1m. Simply use the Cutting List tool (to the right) to select how you'd like your American Cherry Timber to be machined as well as the desired thickness, width and length, and we'll use the state of the art machinery found in our mill and machine shop to cut it to suit your specifications.
Get in touch with us on 01373 469905 or email us for more information: [email protected]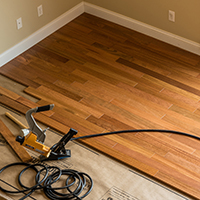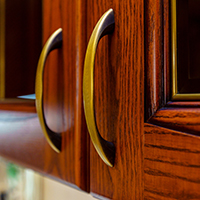 What Wood Works for cabinet making?
Cherry is great for high end cabinet making and flooring with its rich
colour and interesting grain pattern.

Cut to Size / Planed American Cherry Timber
The timber is hard, with a fine, straight, close grain, the heartwood varying in colour from reddish-brown to rich red, the narrow sapwood being pinkish. Fine, narrow, brown-coloured pith flecks, and small gum pockets are a common feature of the wood, which weighs about 580 kg/m³ when dried.
Typically certain species of American hardwood such as Cherry are shipped into the United Kingdom as FAS 1 face or better using the internationaly recognisied NHLA (National Hardwood Lumber Association) grading rules, because they are fruit woods with much smaller trunks, more sapwood, more knots etc.
FAS 1 face allows for only the best face to be 83% clear of knot and the reverse face 50% clear and sapwood is not considered a defect, especially in Walnut and Cherry.
Ordering American Cherry Timber
Ordering American Cherry Timber from Timbersource provides you with an attractive wood which machines well, is great for nailing and gluing, and polishes well once it has been sanded. It is dimensionally stable once kilning has occurred, but does dry with moderate shrinkage. The heartwood is resistant to both decay and – less so – preservative treatment, while the sapwood is vulnerable to attack from the common furniture beetle, unless properly treated.
Frequently Asked Questions about American Cherry Timber
What can this timber be used for?
American Cherry Timber is used for Joinery - Interior, Furniture and Cabinet Making, High Class Joinery, Kitchen Cabinets, Mouldings, Paneling, Flooring, Doors, Boat Interiors, Musical Instruments, Turning, Carving and many more.
How strong and durable is this timber?
American Cherry has medium strength and is shock resistant. American Cherry is moderately durable and is resistant to heartwood decay. The sapwood is liable to common furniture beetle attack and the heartwood is moderately resistant to preservative treatment.
What are its physical properties?
American Cherry works fairly easy, turns well and takes an excellent polish. American Cherry machines well and is good for nailing and gluing, it also has a low stiffness and is good for bending properties.
Standard Delivery
Click & Collect and Delivery - Timbersource usually aims to dispatch orders within 10 working days for most requirements. We will endeavour to complete your order ahead of schedule.
Next Day / Same Working Day
Click and Collect - Same working day collection when you order by 12:00pm**
Delivery - Next working day delivery when you order by 12:00pm (please call +44 (0) 1373 469905 to ask if we can offer Same Working Day Delivery)

**Subject to Stock availability and excludes Saturdays, Sundays, Bank Holidays and Christmas Periods.
Timbersource can deliver nationwide to keep your projects on track.