Home > Hardwood > European Beech Timber
From £10.60 inc VAT
European Beech has good overall strength, excellent shock resistance and good resistance to abrasive wear. European Beech also excellent for bending, making it a highly versatile option.
Ordering European Beech Timber is perfect for internal joinery, furniture construction, panelling, and flooring, though it is disposed towards heavy movement due to its remarkable density. Simply select how you'd like your European Beech Timber to be machined as well as the desired thickness, width and length within our Cutting List Tool to the right, and we'll use the state of the art machinery found in our mill and machine shop to cut it to suit your specifications.
Call us on 01373 469905 or email us for more information: [email protected]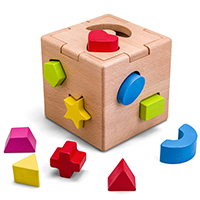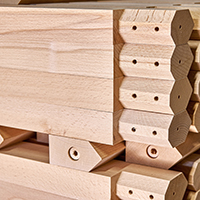 What is the best wood for toy making?
Beech is perfect for toy making as it is non toxic and can also be a good option for chopping boards as
it is food safe. Beech is also very effective for furniture making as it has a fine texture but very strong and stable.

Cut to Size / Planed European Beech Timber
The wood is typically straight grained, with a fine, even texture, but varying in density and hardness according to the locality of growth. Thus, Beech from central Europe, notably that from Yugoslavia (Slavonian), and that from Romania is milder and lighter in weight, about 672 kg/m³, than beech from Britain, Denmark and northern Europe, which weighs about 720 kg/m³ when dried.
Ordering European Beech Timber
before ordering beech planed timber it is important to remember that pre-boring is recommended, and that this wood frequently warps or splits while drying. The heartwood is only slightly resistant to decay, and can be attacked by either the common furniture beetle or the longhorn beetle.
Frequently Asked Questions about European Beech Timber
What can beech wood be used for?
European Beech timber is used for joinery interior, furniture, flooring, doors, paneling, brush handles, turning, food storage/containers and many more.
How strong and durable is this beech wood?
European Beech Timber has general strength properties roughly equal to those of oak, but after drying, most values increase, and beech is stronger than oak in bending strength, stiffness and shear by some 20 per cent, and considerably stronger in resistance to impact loads.
European Beech is not durable and is slightly/non-resistant to heartwood decay. European Beech is liable to attack by the common furniture beetle and longhorn beetle and is permeable for preservation.
What are the physical properties of beech wood?
European Beech has good overall strength, excellent shock resistance and good resistance to abrasive wear. European Beech also excellent for bending.
Standard Delivery
Click & Collect and Delivery - Timbersource usually aims to dispatch orders within 10 working days for most requirements. We will endeavour to complete your order ahead of schedule.
Next Day / Same Working Day
Click and Collect - Same working day collection when you order by 12:00pm**
Delivery - Next working day delivery when you order by 12:00pm (please call +44 (0) 1373 469905 to ask if we can offer Same Working Day Delivery)

**Subject to Stock availability and excludes Saturdays, Sundays, Bank Holidays and Christmas Periods.
Timbersource deliver Nationwide, for more information please CLICK HERE.