Home > Hardwood > American White Oak Timber
From £13.40 inc VAT
American White Oak Timber (Quercus Alba) is very popular for interior joinery, furniture and kitchens. Although generally resembling European oak, American white oak is more variable in colour, ranging from pale yellow-brown to pale reddish-brown, often with a pinkish tint.
When you order American White Oak planed timber cut-to-size using our simple cutting calculator tool to the right, you'll receive a product which has been tailor-made to your exact specifications. Simply select how you'd like your American White Oak to be machined as well as the desired thickness, width and length, and we'll use the state of the art machinery found in our mill and machine shop to cut it to suit your specifications.
Alternatively, call us on 01373 469905 or email us for more information: [email protected]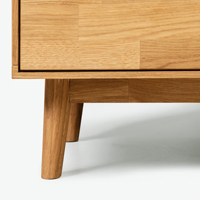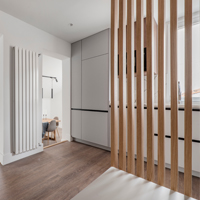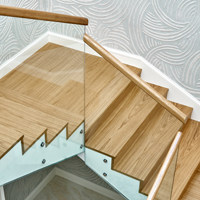 What Wood Works for interior Joinery?
American Oak is great for interior joinery and furniture. It has a very clear appearance compared to
European Oak and comes in wide boards making it very effective for interior decor.

Cut to Size / Planed American White Oak Timber
White oak planed timber is a strong, heavy wood which is prevalent throughout the eastern United States. With a medium brown heartwood and lighter-hued sapwood, white oak is straight grained with a middling texture, and is an excellent choice for a wide range of applications.
This timber is strong enough to be used for boat building and impermeable for reliable liquid storage, but still beautiful enough for use in premium furniture and high-end interior design. With a low stiffness and high level of strength, it holds up extremely well over time, and can also be machined extremely easily.
Made to Measure American White Oak
You will find your made to measure order of white oak planed timber good for nailing and screwing, and notice that it both stains and polishes well. However, pre-boring is advisable, and you will need to wait some time for the wood to dry. The heartwood itself is noticeably resilient toward both decay and preservation treatment, while the sapwood is only moderately resistant to the latter.
Frequently Asked Questions about American White Oak Timber
What is oak used for?
American White Oak is very popular for interior joinery, furniture and kitchens. Thinner boards are price competitive but this may change for boards over 50mm thick. Grade mainly FAS but also #1cmn & btr in 25mm thick is often used by volume furniture producers.
How strong and durable is oak?
American White Oak compares fairly closely with European oak in general strength, but on the whole, its higher density provides rather higher strength. American White Oak is moderately durable. Heartwood is resistant to decay and extremely resistant to preservative treatment. Sapwood is moderately resistant to preservative treatment.
What are the physical properties of oak?
Heavy and hard. Medium bending and crushing strength properties, but very good in steam bending. Southern White Oak is heavier and harder.
Standard Delivery
Click & Collect and Delivery - Timbersource usually aims to dispatch orders within 10 working days for most requirements. We will endeavour to complete your order ahead of schedule.
Next Day / Same Working Day
Click and Collect - Same working day collection when you order by 12:00pm**
Delivery - Next working day delivery when you order by 12:00pm (please call +44 (0) 1373 469905 to ask if we can offer Same Working Day Delivery)

**Subject to Stock availability and excludes Saturdays, Sundays, Bank Holidays and Christmas Periods.
Timbersource deliver Nationwide, for more information please CLICK HERE.