Home > Hardwood > Meranti Hardwood Timber
From £12.80 inc VAT
Malaysian Dark Red Meranti Timber varies in colour from pale pink / white to dark red/purple. The density can also vary substantially as there are numerous sub-species. It is generally easy to machine, and imported grade is mainly selected & better.
When ordering Meranti wood cut to size from Timbersource, you will be able to select from thicknesses of 1", 1¼", 1½", 2", 2½", 3" and 4", widths of around 4" – 12", and lengths of around 7' - 18'.
Take a look at the Cutting List tool to the right to find out more about the measurements/machining options available, or to get a quotation.
Call us on 01373 469905 or email us for more information: [email protected]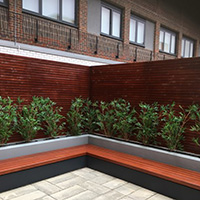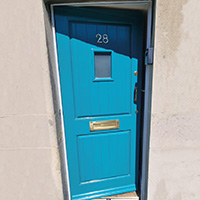 What Wood Works for outdoor joinery?
Meranti is similar to Idigbo in that it is lightweight yet strong and can sustain a great deal of moisture.
It is commonly used for outdoor joinery such as doors, gates, garage doors and garden wall panels.

Cut to Size / Planed Meranti Hardwood Timber
The sapwood is lighter in colour and distinct from the heartwood which is red-brown darkening to a dark red; planed surfaces fairly lustrous, stripe figure on radial surfaces. Grey-coloured narrow streaks are often present on all longitudinal surfaces, caused by concentric layers of resin canals. The texture is rather coarse but even, and the grain is interlocked and wavy. The wood weighs on average, 710 kg/m³ when dried.
Many Tropical timbers including Meranti may affected by the tiny Ambrosia beetle when the logs are fresh-felled and lying on Forest floor in humid climates, as soon as the log is resawn and kiln dried, the Ambrosia dies i.e. it is not continuous damaging woodworm. This is not considered a defect especially as these timbers are frequently given a paint finish and either a coloured or dark stain typically hides any pin marks.
Ordering Meranti Hardwood Timber
We find that many people ordering Meranti timber from Timbersource value this wood for its similarity to mahogany, and often use it for windows, conservatories, and doors. When ordering Meranti timber cut to size from Timbersource, you will be able to select from thicknesses of 1", 1¼", 1½", 2", 2½", 3" and 4", widths of around 4" – 12", and lengths of around 7' - 18'.
Frequently Asked Questions about Meranti Hardwood Timber
What can this timber be used for?
Dark Red Meranti is used for: cladding, joinery interior and exterior, flooring, furniture, cabinet work, general construction, boatbuilding and much more. Thicknesses 26mm, 32mm, 38mm, 51mm, 63mm and 76mm. Widths 4" - 12", mainly 6" - 8", lengths 7' - 18' average approx. 12'.
How strong and durable is this timber?
The average figure for strength and stiffness in bending and compression for Dark Red Meranti is about 20 per cent higher than that for Light Red Meranti; in shear there is about 10 per cent difference, and in hardness, over 30 per cent.
What are its physical properties?
The timber of the various species works well and in general, are capable of a good smooth surface, but a reduction of cutting angle to 20° is beneficial where a tendency for the grain to tear becomes apparent. The dulling effect on saws and cutters varies somewhat with the species but is usually quite small.
Standard Delivery
Click & Collect and Delivery - Timbersource usually aims to dispatch orders within 10 working days for most requirements. We will endeavour to complete your order ahead of schedule.
Next Day / Same Working Day
Click and Collect - Same working day collection when you order by 12:00pm**
Delivery - Next working day delivery when you order by 12:00pm (please call +44 (0) 1373 469905 to ask if we can offer Same Working Day Delivery)

**Subject to Stock availability and excludes Saturdays, Sundays, Bank Holidays and Christmas Periods.
Timbersource deliver Nationwide, for more information please CLICK HERE.