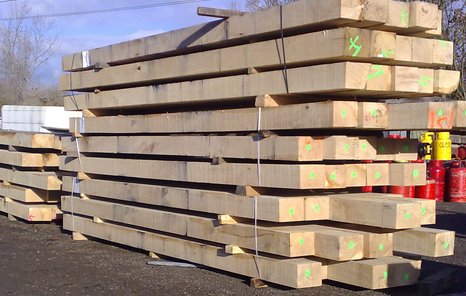 Before you order the timber you need for your project, you need to work out exactly what you need to order and in what quantity. Teak timber for example is good for a lot of different purposes whilst other timber's have more specific use cases.

Read on for our guide on ordering timber for your projects.
Measure up
Before you order your timber it is important to work out exactly how much you will need using precise measurements. Not only do you need to know the exact dimensions of what you are building, you also need to know how many pieces of timber are needed. For example, if you are building a deck, you need to decide which way the boards will go before you can work out how many boards are required to fit the space and whether all the boards need to be the same size or not. As a rule always order more than you need, to allow for error. We can provide hardwood or softwood that is planed all round to the exact finished size you need, or we can provide rough sawn boards which may arrive larger than required, for you to finish cutting them once you have started work.
Getting the right timber for the job
Choose your preferred timber not just by appearance but its workability. If you will be preparing the timber yourself, make sure that you choose a timber that is easy to work with. Also consider how well suited your chosen timber is to the project- do you need a loadbearing timber, or a timber that will be able to withstand the elements? Think about how your timber will age too- will it require frequent maintenance such as varnishing or waxing, or is it easy to look after? Here at Timbersource our team has a combined practical experience of over 180 years, so we can give you expert advice on which timber best suits your needs.
Cut and finish
If you want ready-finished wood then we offer a number of services to help provide you with exactly what you need. We have professional cutting equipment and trained staff, so you can rely on us for quality and precision cutting. If you require re-sawing, cross-cutting, planing, profiling or sanding, we can provide this as required to save you the legwork and ensure that each piece of timber is made to your exact specification.
Contact us today about the type and dimensions of the wood you want and we will supply you with a quote promptly.